Floor coating systems include:
Further related services include:

Resurfacing finishes & related services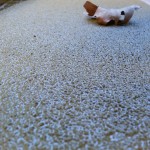 Epoxy and polyurethane flooring by Swan Coatings are a decorative interior and exterior seamless flooring range suited for retail, commercial use and sanitary areas as well as for residential areas. Epoxy flooring provides a hard wearing, seamless flooring surface made from a dense polymer structure, which gives strength and durability.
Swan Coatings uses only premium grade epoxy and polyurethane product from established European and Australian suppliers as well as local Adelaide suppliers that can modify the coating for each individual project if needed. We are one of very few coating specialist that can offer the installation of epoxy flooring systems which are UV stable and do not require additional seal coats for most applications.
Swan Coatings acknowledges that it is sometimes not possible to move out of private or commercial premisses for the duration of the floor coating works or to stop production and trading. We have therefore investigated water based epoxies and are pleased to advise that we are now working with a leading Australian supplier, whose water based epoxy flooring systems meet our high standard.
Swan Coatings understands that every project is different and has different requirements. We are pleased to offers you a wide range of different resurfacing and floor safety options to meet your very need. Please use menu to select or contact us and we are happy to talk you through your options.
Further pages to be added to menu soon include polyurea and polystaprtic floor coatings, sustainable decking resurfacing, granite and pebble finishes from Omnicrete called Omnigrip Deco, Omniglaze and Surestone.