Floor coating systems include:
Further related services include:

Anti Slip Floor Treatment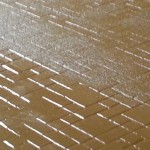 Floor safety is quickly becoming one of the biggest issues property and business owners and managers are facing. With the South Australian Government constantly tightening the Work Health and Safety requirements (WHS), anyone owning or managing premises open to the public and/or staff is obligated to comply with the Australian Standard for slip resistance of floors. If a slip or fall occurs, someone will be held responsible.
The recent update of the Australian Standard AS/NZS 4586-2014 – Slip Resistance classification of new pedestrian surface materials, AS/NZS 4663-2014 – Slip resistance classification for existing pedestrian surfaces and handbook HB 198 – An Introductory Guide to the Slip resistance of pedestrian surface materials made it easier for architects and designers to nominate the correct classifications. Until now, designers often would specify R-ratings, which are unpractical and irrelevant for most commercially and industrially used floors such as halls, shops, restaurants and bars, disability services, health and aged care, hospital, child care, schools, external step, paths and ramps. Testing a floor for its R-rating can also not be done on site, only in a laboratory and is very costly so most flooring suppliers including epoxy floor coating suppliers would not have those ratings for their commercially available flooring systems.
Most commercially used floors can however be categorised with the wet pendulum test as described in AS/NZS 4586-2014 and AS/NZS 4663-2014 as well as HB 198. It is cost efficient and can also be undertaken on site. Even fewer manufacturers have caught up with the latest Standards and tested their flooring systems with the wet pendulum test. So even if the right classification is nominated by the designer, it is largely unknown to the builder which flooring system can achieve the required anti-slip rating. Swan Coatings is working closely with manufacturers to rectify this missing link in the industry.
Seeing the need to link the two, Swan Coatings has developed its own range of anti-slip floor safety systems in accordance with Table 2 – AS/ NZS 4586-2014 – 'Slip Resistance classification of new pedestrian surfaces' and Table 1 – HB 198:2014 – 'An Introductory Guide to the slip resistance of Pedestrian surface materials' using different epoxies/ polyurethanes and aggregates.
We asked a NATA accredited institute to test and certify our anti-slip floor safety coating systems with the wet pendulum test in accordance with AS/ NZS 4586-2014. The Swan Coatings systems achieved ratings of P3 (X) – moderate, P4 (W) – low and P5 (V) – very low as well as maximum slope allowance, which allows us to clearly advise you on the correct system based on your flooring needs. The certificates can be provided to clients upon request.
If you are unsure whether the internal and external floors in the premises you own or manage are safe in accordance with the Australian Standards, call us for an expert inspection and obligation free quote.